(Cornucopia Blog – June 8, 2015)
It was with angst that we awaited the elections. For those who care about the environment and heritage (and read Cornucopia 52), the future of the Bosphorus was disappearing on a Yeniköy–Beykoz dolmuş motor into a fog of hopelessness. A long, dark winter of unchecked development seemed inevitable, and there was a terrible final flurry as the election approached (the Beykoz silhouette has been disfigured in a matter of months). Calling a halt seemed impossible – unless something of the old Gezi spirit could force conscience and civic responsibility to prevail over sublime personal greed among our public servants… Now something has changed. The brave little dolmuş is homing back into view. But will it be enough? Be wary of spring, as old people (and the poor Middle East) will tell you.
Plans for Turkey's new power-station tower over all others as a force of immense short-termism (and vast profitability for the few involved), but will they now be reviewed? Surely they must be. Ditto Istanbul's infamous mega-projects and their trail of destruction, bravely highlighted by people like kuzeyormanlari.org, whose scientific report outlines the consequences of the Third Airport here: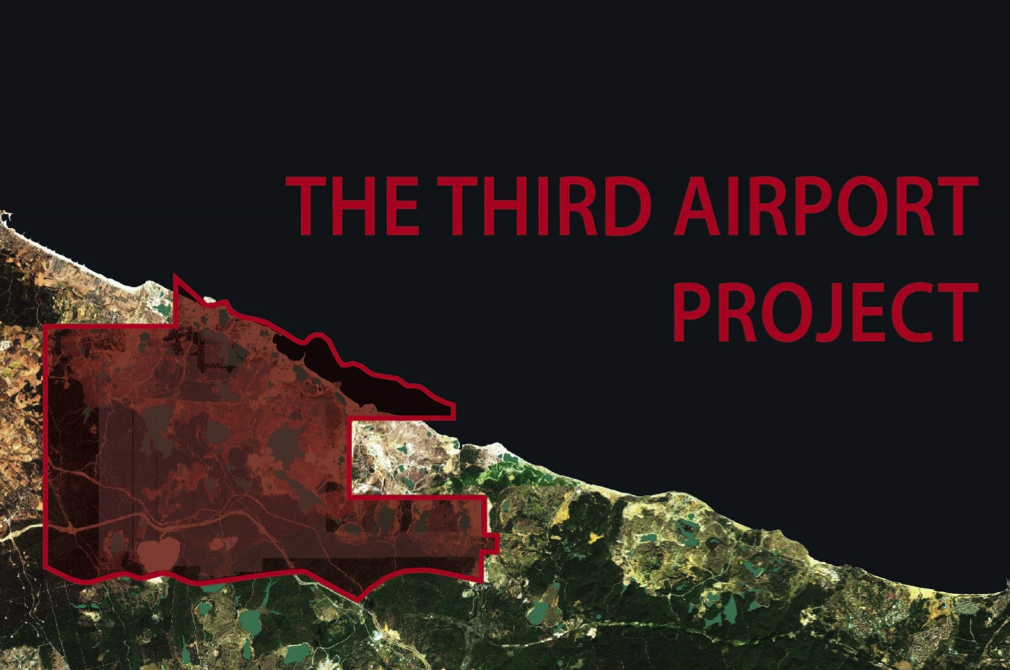 Returning to the Bosphorus itself, can last night's rather inconclusive results be enough to restore it to its place as one of the great natural and man-made wonders of the world? We can but hope.
Bebek is the improbable front line in the battle over the construction of hideous 'boat parks' ('marinas' are technically banned under international law – a mere technicality, of course). Work is due to begin in mid-June on a 622m long 'tekne park' for 300 vessels. A new 120,000sqm landfill carpark will line the shore. Apparently this is down to one man, with no public consultation of any sort (in itself against Turkish law), bent on wrecking the shoreline. The report is unfortunately only available in Turkish, but the images put the point across well enough.
Forget any pretension that this is all for the public good. No experts have been consulted. The natural terrain has not even been examined. If our friend's mass Bosphorus marina project goes ahead (apparently even the mayor of Istanbul refuses to take questions), only those who can afford to 'park' their gin palaces here – the usual suspects, Russian oligarchs, Arab sheikhs, etc – will actually be able to see the sea in bays such as Bebek and Beykoz, once famous for their views. Tarabya and İstinye have already gone and now need to be sealed off with huge permanent breakwaters.
It's fun dreaming up all the things that could and should be done. Admittedly, a decade of hard labour is needed to undo the damage of the past ten years. High on our must-do list is the demolition of illegal tower blocks in sight of the water, along with the ghastly new concrete esplanades (as featureless and glaring as airport runways), not built for the convenience of the public or quality of life but to boost income from yet more carparks (currently earning TL5 million a day, we heard on the radio, figure unverified). But the latter would need to be part of a larger plan.
The emphasis on public transport should be shifted to the sea. Zones should be mapped out for restricted car access, so that people can actually enjoy the Bosphorus again rather than suffer continuous weekend gridlock. Only one dolmuş service exisits on the Bosphorus north of Beşiktaş. A proper and full boat service should immediately be brought back (but no seabuses, please, as their tsuami-like wakes were wrecking the historic fabric of the shoreline; and coastguard vessels should learn to respect speed restrictions for the same reason). The fine oldvapurs should, of course, be restored and could surely make pots of money pampering passengers. All the old boat stations should be reopened and squatting restaurants evicted – they could build their own platforms on stilts. Bicycle routes are a must, along with an efficient bike-rental system.
A total ban on imported tulip bulbs would go some way to saving pots of money to plough into such projects. Parks such as Yıldız and Emirgan could fulfil their original purpose as botanical gardens, still earning money and generating employment – but usefully, not simply as easy cash-cows for the municipality's plant-importing pals. At the moment the Nezahat Gökyiğit Botanic Park, in a tangle of motorway junctions on the Anatolian side, is heroically flying the flag of botanical science in a city with more botanic diversity than the whole of the British Isles (see Andrew Byfield in Cornucopia 53).
Dream on, you may say. But where there's a will there's a way. And we believe there are both – if public servants would just remind themselves each morning of each working day that that is precisely what they are – servants not masters – and that their good (or bad) names will live on after them. Surely there is now an opportunity. If readers feel like sharing ideas of what should be done for the Bosphorus in an ideal world, drop us a line at <var class="a-var">feedback@cornucopia.net.